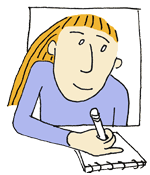 The Broader Cartoon and Arts Community
Here are some links to other artists, writers, cartoonists and anything else that inspires or amuses.
With astounding discipline, every two years, Amy has created a large-scale installation in reclaimed abandoned mills dotted around the state of Maine.
Tim takes delight in the idiosynchrosies of Maine's Downeast sense of humor.
Fellow Women's Small Business Development Program graduate Marianne Mullen has launched an online clothing store that sells whimsical, fun, and unique styles for babies and kids.
Gregory is a talented independent musician and creator of the song "North Star," which was used as the sound track for Anne's animated film Soul Flight.